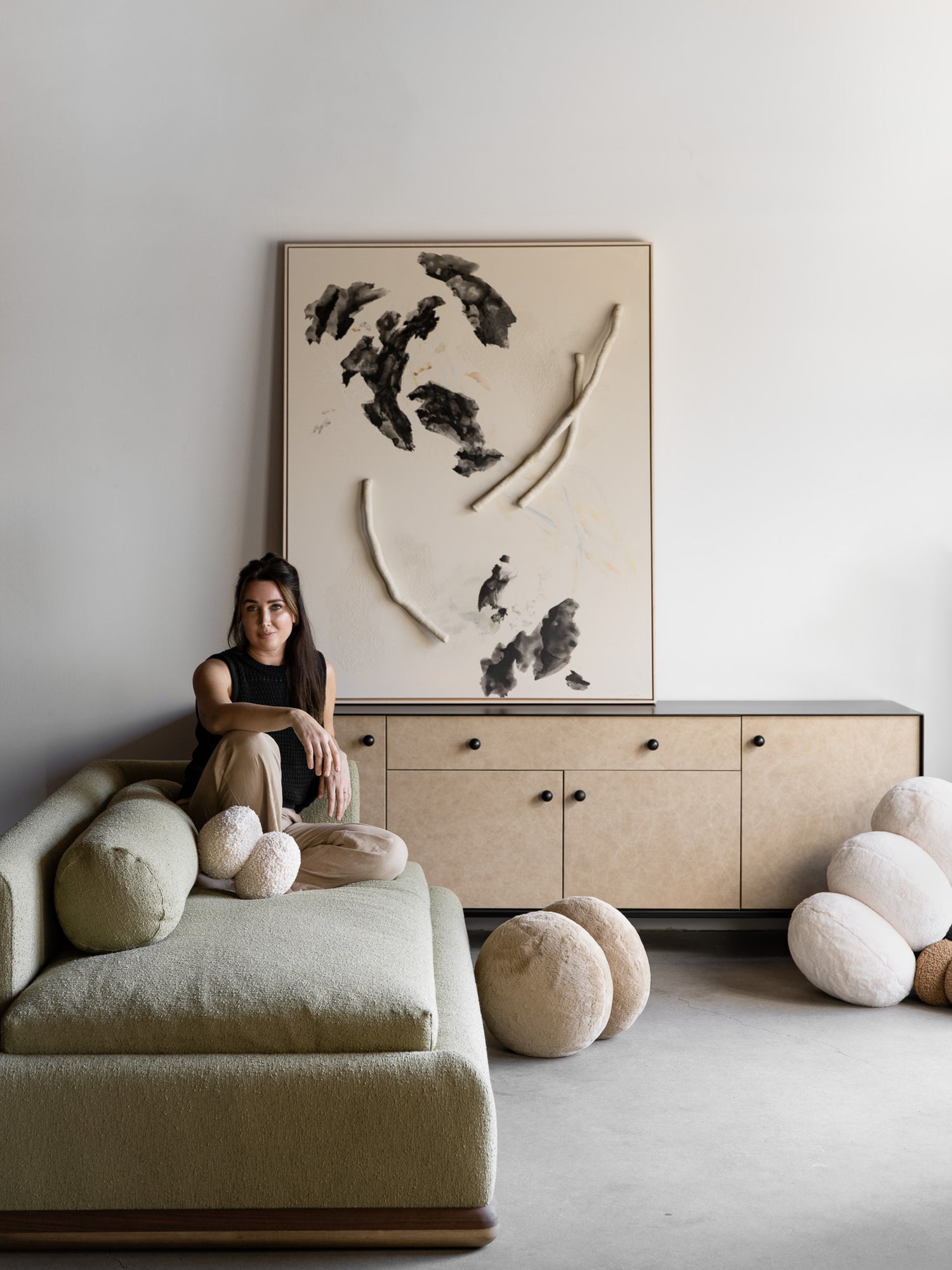 FROM THE STUDIO
My name is Kalla McGuire and I am the founder and designer of küdd:krig HOME, as well as a contemporary fine artist, living and working in Southern California. I grew up in San Diego, and at the age of 17, moved to San Francisco and subsequently a number of other cities, ultimately making my way back to California. My professional background is in fashion and I have been painting for as long as I can remember. 
My interest in and approach to design is really the confluence of life experiences, but if I had to narrow it down to one period of time it would be in my time working as a wardrobe stylist and interior consultant in New York City. Dressing my clients in the work of so many visionary fashion designers was a kind of inspiration I had never felt.  Designers such as Rick Owens, Dries Van Noten and Balenciaga lit me up in particular. 
Wardrobe styling evolved into consulting on my client's interiors and in the process of sourcing basic decor pieces, there were few if any that captured my attention in that same way.  It was perplexing to me that such universal and commonplace items, pillows in particular, weren't being paid more attention.  I tucked that little nugget away until years later when I sat down and taught myself how to sew.  From there, my work as a designer has evolved into various categories of home goods, and my personal art practice has grown right alongside it.  Somewhere within that evolution I met and married a woodworker, who is the dowel and brackets to my tapestry.
küdd:krig is Swedish for "pillow fight", and speaks to the playful nature of the pieces I design, which began in the form of pillows.  
My Scandinavian roots have heavily influenced the core of my design style.
küdd:krig HOME's one of a kind pieces are available at our Los Angeles showroom. Contact our Design Consultants to learn more about the exclusive works or to schedule an appointment.
Contact Us
Sitting down with Kalla McGuire
CH // What are the inspirations behind your current body of work?
 
KKH // Explorations of form, curiosities in material and unexpected unities.
 

CH // How has the California landscape and culture influenced your work?
 
KKH // In terms of culture, there is definitely a casual luxury to the feeling of my work, with equal parts it's-not-that-serious and we-can-do-better.  Maybe some emphasis on the latter.  The literal landscape is an artist's dream.  Lush mountains, hidden hot springs, waterfalls, forests and creatures, rolling hills, peaceful deserts, soft sandy beaches, deep waters.  Nature is referenced in both my design and art practices through palette, texture, movement, form and simplicity.
 
CH // Tell us about your creative process.
 
KKH // There are two bodies of thought/work at play.  My design approach is more conceptual and practical, imagining objects that fit into and serve some sort of purpose within a space.  As an artist, it's more about personal expression- informed by experiences, insights, a sort of visual representation of a place and/or feeling in time.  Both practices are continually building and expanding upon previous explorations.  Most of my best ideas come to me in the shower.

 
CH // When do you feel most creative?
 
KKH // In my studio with my 2 dogs, cleared tables, music on, just figuring it all out.
 
CH // How has your craft or techniques changed over time and what can we expect to hear from you in the future?
 
KKH // I am completely self-taught, both as a designer and an artist, which I think has allowed me to approach things differently.  The technical skills have developed organically as my style and point of view have been shaped within that process.  As I continue to develop and learn new techniques, I have more tricks in the toolbox, and therefore able to execute bigger ideas.  I think my confidence has grown a lot as well which allows me to trust my instincts and move forward more quickly.  It's too soon to say what you can expect to see, but there is much in the works and I hope it's unexpected.
Nature is referenced in both my design and art practices through palette, texture, movement, form and simplicity.